GOP WARCHEST WOES: Cuomo, a Democrat, has more than 40 times more money to spend on his campaign than Molinaro, the Dutchess County executive.
According to campaign finance reports filed last week, Molinaro has raised $448,000 since July and spent about $1.13 million. He now has $211,000 on hand.
Cuomo's balance? $9.2 million....
The recent filings also show that none of the three third-party candidates appear to be picking up serious fundraising momentum. Independent candidate and former Syracuse Mayor Stephanie Miner posted a balance of $55,000. Green Party candidate Howie Hawkins has $31,000 and Libertarian Larry Sharpe has $24,000 on hand.
Read more
Fellow New Yorker Howie Hawkins, a Green Party gubernatorial candidate, told the Post Star on Wednesday, "We're really on the edge of a real disaster," citing the report. "We just hope New York can take the lead and set an example."
He added that implementing a Green New Deal at the state level would be "such an economic boom for the state."
Read more
Yonkers Times: October 12, 2018
In September, the Reform Party commissioned a poll from Liberty Opinion Research that found Cuomo's lead was cut to just 46 percent, to 43 percent for Molinaro.
If you included all of the minor party candidates, the poll had Cuomo at 31 percent, Molinaro at 30 percent, Cynthia Nixon on the Working Families Party line at 14 percent, independent candidate Stephanie Miner at 5 percent, Libertarian candidate Larry Sharpe at 5 percent, and Green Party candidate Howie Hawkins at 5 percent.
Read more
Gotham Gazette: October 12, 2018
The WFP's endorsement of Cuomo crossed from pragmatism to cynicism for some, including Green Party gubernatorial nominee Howie Hawkins, who issued a statement calling the WFP's attempt the pull the Democratic Party left a "futile effort" and invited socialist and progressive voters to fill in the circle for him instead.
Read more
Glens Falls Post-Star: October 11, 2018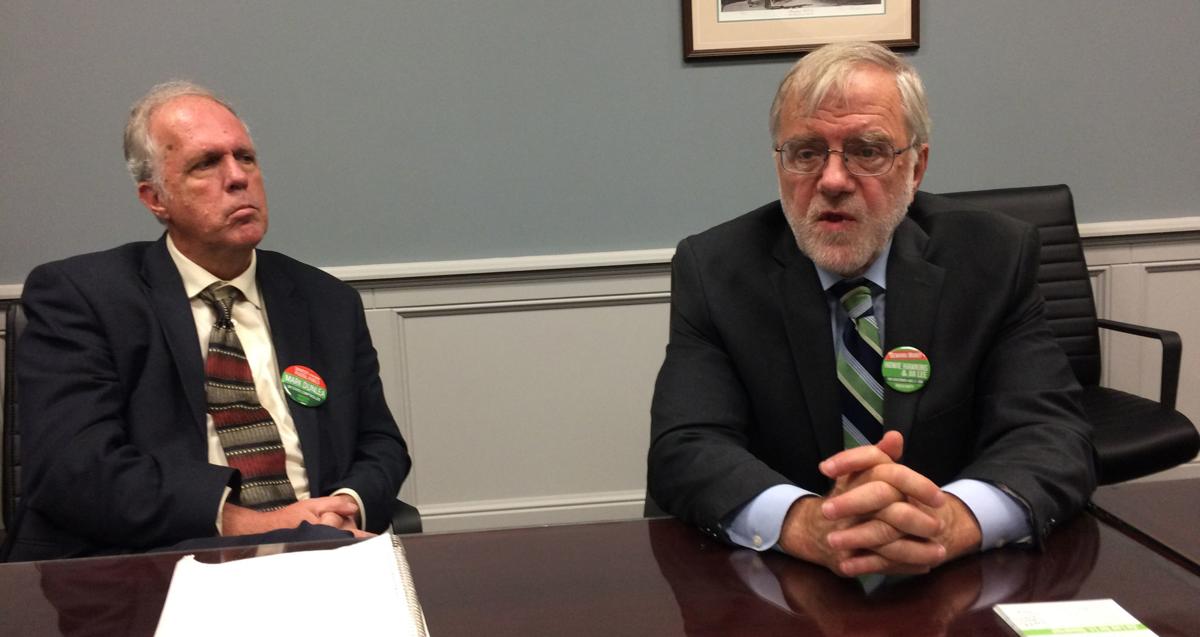 From left, Green Party candidates Mark Dunlea, who is running for comptroller, and gubernatorial nominee Howie Hawkins talk to The Post-Star editorial board on Wednesday.
by Michael Goot
GLENS FALLS — Green Party gubernatorial candidate Howie Hawkins and comptroller candidate Mark Dunlea believe that current politicians have failed to clean up Albany.
"I think it's rife with corruption," Hawkins said Wednesday in an editorial board meeting with The Post-Star.
Hawkins supports public funding for elections, such as in Maine, where people can opt into a system and receive matching donations. Politicians like the system, he said.
"They don't have to go around begging for money," he said.
Hawkins, who is a political activist and the Green Party nominee in 2010 and 2014, said Gov. Andrew Cuomo campaigned on getting rid of corruption and, instead, government officials have been convicted in bid-rigging and pay-to-play schemes.
Read more
Spectrum News: October 10, 2018
With less than a month to go before Election Day, Gov. Andrew Cuomo's re-election campaign has $9.2 million in cash on hand. His four opponents -- including Republican Marc Molinaro, Howie Hawkins of the Green Party, Libertarian Larry Sharpe and independent candidate Stephanie Miner -- have $320,000 -- combined.
"What I liked about those reports is I'm not the only one having trouble raising money. I'm in the mix compared to some of those other guys," said Hawkins....
The Green Party's Howie Hawkins argues Cuomo has not really changed since the challenge from his left.
"He talks to the left and governs to the right. He talks about public campaign finance, closing the LLC loophole, etc., and it never happens," said Hawkins.
Read more
WFUV (Fordham University): October 10, 2018
Rising temperatures, algal blooms, billions (with a B) of tons of food waste and the growing need for renewable energy sources have New York politicians under pressure from environmental groups and voters alike. Prickly hosts Kacie and Andrew chat with Green Party candidate Howie Hawkins about his gubernatorial bid and City & State's Rebecca Lewis.
LarrySharpe.com: October , 2018
Gravis Marketing released its latest survey of likely voters with Cuomo at 48%, Molinaro at 25% Sharpe at 13%, Miner at 9% and Hawkins at 6%
New York, NY – Gravis Marketing released a new survey of 783 Likely Voters this morning, asking voters how they planned to vote in the upcoming gubernatorial election. Among the voters surveyed Democratic Candidate Andrew Cuomo polled at 48%, Republican Candidate Marc Molinaro polled at 25%, Libertarian Candidate Larry Sharpe polled at 13%, Serve America Movement Candidate Stephanie Miner polled at 8%, and Green Party candidate Howie Hawkins polled at 6%. The poll has a +/-3.5% margin of error.
"This poll shows that we're continuing to gain momentum with New York voters." says Libertarian Candidate Larry Sharpe.  "When people know who I am, when people hear our message, my campaign polls even better. We're seeing the results of our efforts at events throughout New York State." Follow up questions within the poll asked respondents about various policy issues and whether they were aware of candidate issue positions. After these questions, the respondents were asked again about their preferences for governor with Andrew Cuomo at 38%, Larry Sharpe at 25%, Marc Molinaro at 19%, Stephanie Miner at 9%, and Howie Hawkins at 10%.
"This poll really underscores the need for debate that includes all candidates for Governor. Millions of New York voters are looking for alternatives to the major party candidates" says Brian Waddell, Larry Sharpe's campaign manager. "Governor Cuomo needs to come out of hiding and agree to a debate immediately."
At present time, Governor Andrew Cuomo has not agreed to debate any candidates for Governor.
Gotham Gazette: October 10, 2018
Hawkins, who received 5 percent of the vote in the 2014 gubernatorial race, says he hopes to beat that this year, but is severely underfunded....
Hawkins of the Green Party is banking on progressives being dissatisfied with the governor, and thinks he is the logical choice for Nixon voters in the general. "He talks progressive but he governs to the right," Hawkins said of Cuomo in a brief phone interview. He pointed out, for example, that the governor's much-vaunted $15 minimum wage isn't in effect upstate, where the minimum wage is set to increase to $12.50 by the end of 2020. He criticized Cuomo for hesitating on extending the state's millionaires tax, his handling of issues at the New York City Housing Authority (NYCHA), and lead poisoning issues in upstate communities in Syracuse, Buffalo, and Ithaca.
"I think it resonates but the question is, do we have the reach to reach all the progressives who I think on these issues are the majority of people in New York State," Hawkins said.
He recognized Cuomo's many advantages. "The only way we can overcome it is if the media narrative changes," he said, noting for instance that though the Green Party received more than twice the votes the Working Families Party did in 2014 (with Cuomo on its line), the WFP's political moves tend to get more attention. "That would make a big difference...It's not just what Cuomo's got, it's the way he's being treated by the media, which is frustrating for us."
Read more
Sun Community News (Plattsburgh): October 10, 2018
Cuomo faces Republican Marc Molinaro, Green Party nominee Howie Hawkins, Libertarian Larry Sharpe and independent candidate Stephanie Miner on Nov. 6.
He should debate them.
We've spoken with most of these candidates over the past several weeks, and we think voters would benefit from a series of televised exchanges so they can share their vision with voters statewide.
Read more