Between April 2014 and April of this year, the number of active registered Democratic voters in New York State grew 3.6 percent. Registration in the Republican party edged up about three-tenths of a percent. The Conservative and Working Families Parties both shrank, as did the Independence Party.
The Green Party, meanwhile, saw its registration leap 22 percent.
It's hard to say why the Green Party's membership—at 26,500, it's still very small in the context of the state's 11.3 million active voters—has increased that much since the last state election cycle. Maybe the Bernie Sanders candidacy made the Green's brand of "ecological socialism" more popular, or maybe the matchup of Hillary Clinton and Donald Trump made the major parties more toxic.
Read more
Black Agenda Report, May 30, 2018
The biggest thing it gets right is its adamant insistence on independence from the two ruling class parties. They know you cannot ride to freedom on Pharaoh's chariot. That's vitally important. The best among them, like Howie Hawkins, the current Green candidate for NY governor have also preached for years that a sustainable Green Party has to be built on a dues-based membership, with all officers directly responsible to the members who pay those dues.
by Bruce Dixon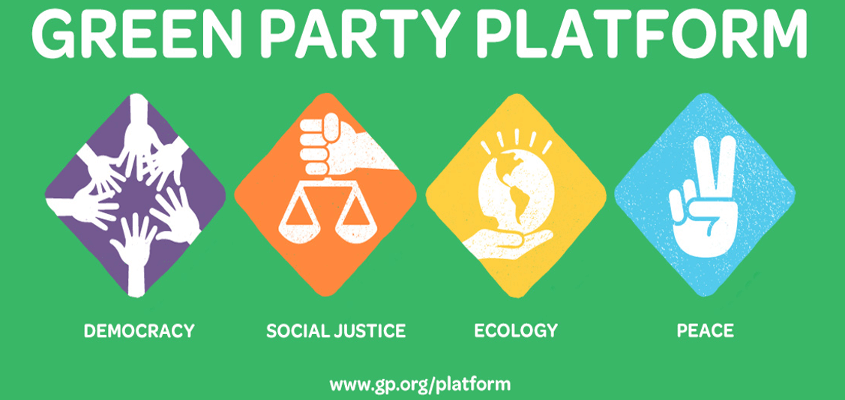 Read more
A recent Quinnipiac poll has Cuomo with a 57 to 26 percent lead over Molinaro, but Cuomo will have to deal with a Democratic primary challenge from actress-activist Cynthia Nixon. Cuomo leads Nixon among Democrats by a 50 to 28 percent margin. If Nixon, who has received the endorsement from the Working Families Party, decides to run in November regardless of the outcome of the September Democratic primary, a three-way race between Nixon, Molinaro and Cuomo currently polls at: Cuomo – 40 percent, Molinaro – 23 percent, and Nixon – 20 percent, with 17 percent undecided.
Four years ago, former Westchester County Executive Rob Astorino lost to Cuomo by a 54 to 40 percent margin, with Green Party candidate Howie Hawkins getting 5 percent of the vote.
NY Should Join CA to require new buildings to include solar, renewable energy
Howie Hawkins, the Green Party candidate for Governor, called upon the Assembly energy committee to approve legislation that would halt Cuomo's anti-solar provisions adopted last year by the Public Service Commission.
Mark Dunlea, the Green candidate for State Comptroller, said that state should followed the lead of California, which recently required all new building by 2020 to include solar power in their design.
Read more
ALBANY, N.Y. (AP) — A longtime Albany activist is running as the Green Party's candidate for New York state comptroller, while an upstate lawyer is the party's nominee for attorney general.
Mark Dunlea and Michael Sussman were at the state Capitol Friday to discuss their campaigns for statewide office. Dunlea is the party's candidate for comptroller, and Sussman is running for attorney general.
Dunlea is an environmental and anti-poverty activist. He served as executive director of the Hunger Action Network of New York State for nearly 30 years.
Sussman is a lawyer from Goshen, in Orange County. He specializes in civil rights cases.
The Green Party has nominated Howie Hawkins of Syracuse for governor and Jia Lee of New York City for lieutenant governor.
Howie Hawkins, Green Party candidate for Governor talks about the Democratic and Republican State Conventio
Add in the Working Families Party (who've backed Nixon, Williams and DiNapoli and said they'll put James or Teachout in their AG slot depending on the outcome of the primary race) and the Greens (whose ticket features) Howie Hawkins, Jia Lee, Michael Sussman and Marc Dunlea) and it's clear that most of the action this summer will be on the left. That could render Molinaro invisible or just keep him admirably above the fray.
***
Read more
Louis Proyect: The Unrepentant Marxist, May 22, 2018
Last night I attended a meeting on "From Syria to Palestine: The Fight for Justice" in Brooklyn that was extraordinary on a number of levels. To start with, it was attended by at least 80 people, standing room only. It was also marked by a high degree of unity with groups focused on Syria or Palestine endorsing the event alongside those on the left like the ISO and the Green Party's Howie Hawkins. Finally, there was a talk by Anand Gopal on the people of Saraqib, a town that epitomizes the 7 year resistance to Assad. My impression is that Stanley Heller of the Connecticut-based Promoting Enduring Peace played a major role in pulling this together. For this, we are in his debt.
Read more
WRVO (NPR, SUNY Oswego), Mary 22, 2018
Green Party gubernatorial candidate Howie Hawkins called on Gov. Andrew Cuomo to cancel a planned trip to Israel. Cuomo postponed the trip after the violence at the Gaza border. Hawkins said he would put conditions on a visit: that Israel stop settlements in the West Bank, the blockade of Gaza and start respecting Palestinian human rights and negotiating a one or two-state solution. Hawkins called the killing of Palestinian protesters an unjustified massacre.
Read more