By Howie Hawkins and Steve Breyman
New York State government has taken a well-deserved beating in recent years in the press and the public eye. Corruption appeared at the highest levels of both executive and legislative branches. From brazen demands for "ziti" and low show jobs from individuals and firms doing business with the state, to charges of bid-rigging and millions in illicit payments in exchange for official favors.
It's most welcome then when Albany gets something right. That something is the boldly ambitious bill recently introduced by Assemblyman William Colton and Senator Brad Hoylman (A5105/S5908) — at the behest of a coalition of more than one hundred citizen groups across the state — to move New York to a completely renewable-energy-powered economy by 2030.
The bill arrives at a crucial moment. To closely follow climate science on a daily basis as we have for the past 30 years is to be convinced of two things: (1) climate change is real, human-caused, happening now, and worsening; and (2) time is of the essence. There is virtually zero doubt among climate scientists of these two facts.
Read more
Nixon isn't the only candidate supporting legalization. Republican candidate Joel Giambra, the former Erie County executive, has said he supports legalization and would advocate for using the revenues for infrastructure funding. Green Party candidate Howie Hawkins has long supported broad cannabis legalization.
Glens Falls Post-Star, April 16, 2018
QUEENSBURY — The Warren County Green Party is holding its annual fundraiser from 6 to 10 p.m. April 21 at Sunnyside Bar & Grille, 168 Sunnyside Road.
Speakers will include recently elected South Glens Falls Village Trustee Christine Elms; as well as Lynn Kahn, congressional candidate for NY-21; and Howie Hawkins, Green Party candidate for governor.
Read more
Adirondack Daily Enterprise (Editorial), April 14, 2018
We, too, have mixed feelings about Cuomo but think Nixon is a deeply unqualified candidate who doesn't deserve the attention she has received....
Thankfully, there are other candidates. Two Republicans are officially running: Dutchess County Executive Marc Molinaro and Sen. John DeFrancisco of Syracuse. Both have strong resumes and thorough understanding of government, as does former Syracuse Mayor Stephanie Miner, who is taking steps toward entering the Democratic primary race. Meanwhile, Syracuse activist Howie Hawkins is making a third run on the Green Party line.
It's been far too long since New York had a close race for governor. In 1994, George Pataki came out of nowhere to edge Gov. Mario Cuomo, but that's the only time the final result was within 15 points since 1982, when Mario Cuomo won his first of three terms. After two easy victories by our current Gov. Cuomo, we're due for a real reckoning. If he wins that, so be it, but in a state this blue, Democrats need to produce a better primary challenger than Nixon.
Another variable that could affect Cuomo centers around Howie Hawkins, the Green Party candidate who Friday announced his candidacy during a rally in Niagara Square.
He was slated to advocate fully funding and desegregating public schools, ending high-stakes testing, and providing a quality education for all students, according to his campaign. Hawkins was also slated to speak on ending "corporate welfare" and promoting a "Green New Deal" of public works to include improving mass transit and achieving 100 percent clean and renewable energy in 15 years.
Hawkins ran for governor on the Green line in 2010 and 2014. In 2014, he finished third with 184,419 votes.
Auburn Citizen, April 13, 2018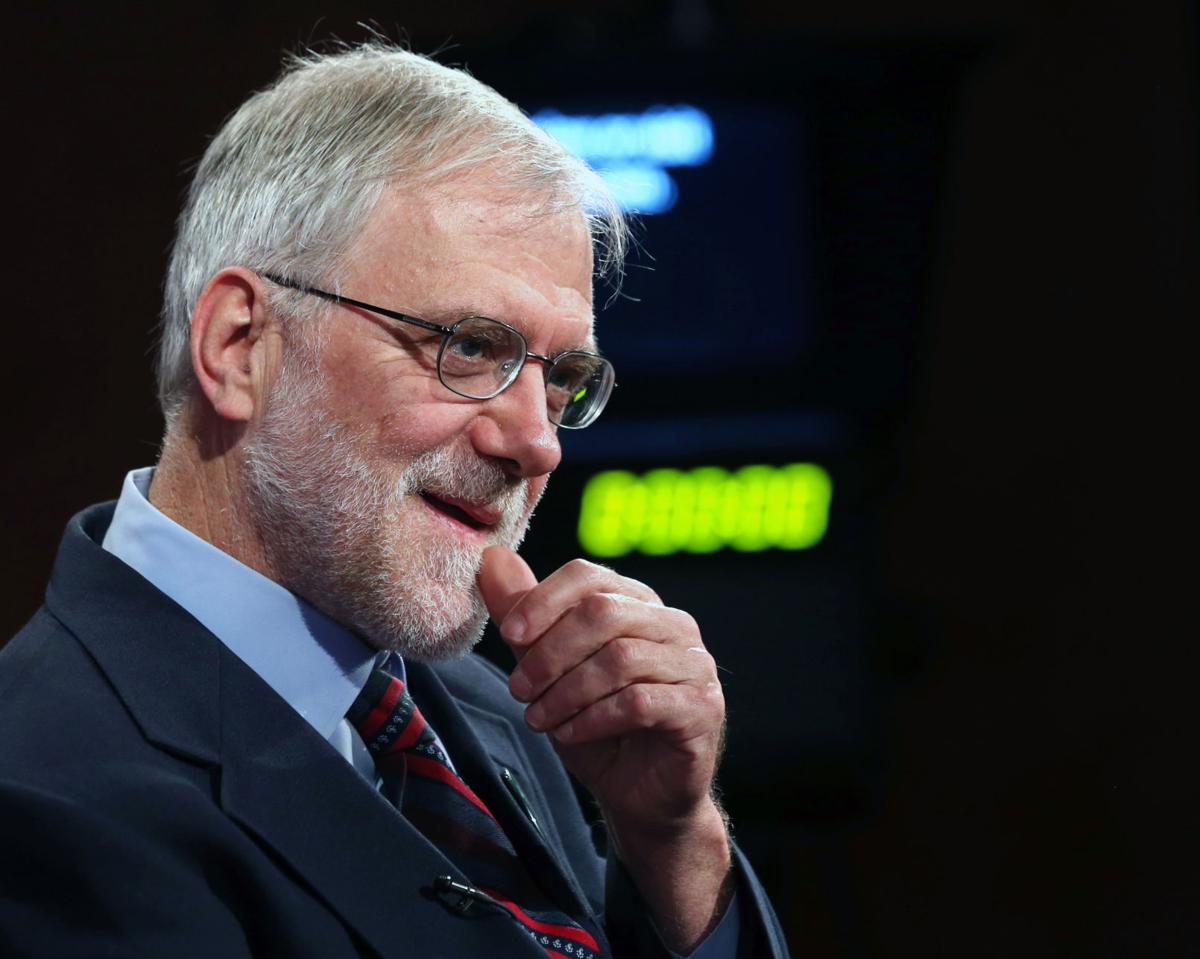 Howie Hawkins is back.
The Syracuse resident who recently retired from his job at UPS announced Thursday that he is running for governor. He will seek the Green Party nomination for a third time.
Hawkins, who was the Green Party's candidate for governor in 2010 and 2014, outlined his objectives as he seeks to become New York's top executive. He wants his candidacy to help build the Green Party in New York and ensure the party retains its automatic ballot line.
The Green Party has had an automatic spot on the ballot since Hawkins received 59,906 votes in the 2010 election. For a party to secure automatic ballot access, its gubernatorial nominee must receive at least 50,000 votes. 
Hawkins received 184,419 votes in the 2014 race for governor. 
Another factor that led to Hawkins' entry in the race is a desire to be the "independent progressive option" in the general election. He believes his positions on issues, including hydraulic fracturing and a $15 minimum wage, put pressure on incumbent Democratic Gov. Andrew Cuomo during the last gubernatorial campaign.
Read more
WAER (NPR, Syracuse University), April 13, 2018
Yet another candidate has announced a run for New York governor.  Syracuse's own Howie Hawkins is seeking the Green Party nomination for the state's top job. Four years ago, Hawkins earned more than 184,000 votes, which he says pushed the state in new directions.  
"We got five percent and Governor Cuomo, I think, was compelled to compete for those progressive votes by adopting some of our demands like the ban on fracking, the millionaire's tax, the $15 minimum wage, paid family leave. Well, we moved policy, and we intend to do the same thing this time."
Read more
WBFO (NPR, Buffalo), April 13, 2018
Syracuse's Howie Hawkins announced Thursday that he is running for governor on the Green Party line for the third time. Hawkins said a victory does not necessarily mean winning the race.
At his announcement in Albany, Hawkins said his slogan is 'demand more.'
"We're saying to the people of New York, in particularly the progressives, you've got to have higher expectations from our government," Hawkins said. "We got politicians going to prison more than any other state."
Hawkins said he does not just want reforms, he wants to change the system, including full public campaign financing.
"Raising expectations starts with cleaning up Albany," Hawkins said. "We've got down here a quid pro quo, pay-to-play culture of corruption. Even when they don't find proof of legal bribery, these campaign contributions from the rich and corporations expecting favors is legalized bribery."
Read more